Mobile access to the knowledge base and customer data reduces repair time and prevents failures.
Checklists reduce training time and failures, the mobile app makes field techs more productive.
Our customers reported in a survey decreased service costs by average 8%.
Fuel Productivity and Quality Service with Smartforms
Working with Smartforms during service visits ensures a uniform level of expertise. Not only can they be customized to include all company and product knowledge, but they are also simple to create. They ensure that all processes are standardized, and for example also keep in mind EHS (Environment, Safety and Health) Standards. Finally, they can be easily integrated into enterprise resource planning (ERP) systems with an open API.
+ Read More
- Read Less
Field service smart forms are like a script for how to provide the best service. They are also:
easy to create with a drag-and-drop feature
are automatically revised which means checklists stay up-to-date
help optimize processes by setting forth the best plan of action
are connected to ERP systems providing constant access to all important manuals and documentation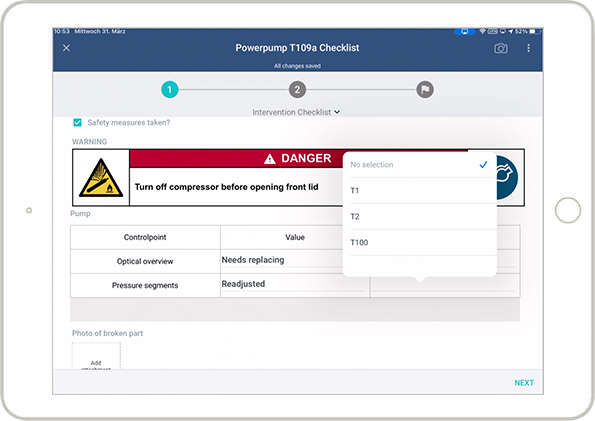 Use Dynamic Smartforms to Empower Your Service Technicians

Service technicians generally find themselves on their own when providing Field Services. However, this does not mean they have to be without access to key knowledge and insight. Nowadays, thanks to Smartforms and file libraries, they can remain connected to the know-how they need to provide quality service. Dynamic checklists enable workers to perform efficiently and effectively thus maximizing productivity and customer satisfaction.
+ Read More
- Read Less
Dynamic Smart Forms offer the following key benefits:
guidance and instruction based on real-life empirical data, scenarios, and situations
availability of and access to all data (customer and product history, user manuals, video tutorials, etc.)
customizable structure that is flexible and can be adapted to any industry
increased first-time-fix rate thanks to access to knowledge and expertise
security checks
information about the right tools and parts for the job as well as the best technical qualifications necessary to complete the field service
high probability that field service technicians are ideally prepared for the job
Ensure Service Excellence and Efficiency Through Shared Knowledge
With Smartforms, you can ensure that all team members share the same view of the field, through applying information captured in the field through customer interactions to business processes and practices. Whether online or offline, your employees in the field will have access to these checklists to ensure that your customers receive the right response on the first visit.
+ Read More
- Read Less
One of the essential aspects of smart forms is ready accessibility:
online and offline access to data and smart forms enables technicians to work anytime and anywhere
accessibility to everyone involved including service technicians, back office personnel, and management helps everyone stay informed and up-to-date
collaborative work is more harmonious
transparency across the entire field service supply chain
simple communication without the need for constant requests, demands or disruptive telephone calls while on the job
Capitalize on Knowledge Accumulated by Field Service Technicians
Having experienced and well-trained service technicians is essential for company success and a prerequisite for customer satisfaction. Checklists / Smartforms make it possible for employees to improve performance even further by providing key field insight to back-office personnel. By sharing information about follow-up activities with the sales department or linking to customer relationship management (CRM) software, service technicians can promote cross-selling and up-selling.
+ Read More
- Read Less
Smart forms make it possible to:
collect valuable data, which will be essential in the future
improve cross-selling and upselling by alerting back-office personnel about customer needs i.e. upgraded devices, new service contracts
reflect on a completed job and provide key learnings
provide remote support through augmented reality
All-in-one Field Service Software for your entire team.
Make it a core moment.
In the peak season, we handle more than 20 assignments per day. Due to incidents that cannot be planned, such as technical malfunctions or «surprises», the schedule changes very often and very quickly. The use of field service allows us to be flexible without having to make countless phone calls to the service technician.