Respond to changes with significantly more flexibility. Technicians can remotely retrieve and adjust service reports at any time.
Faster and more efficient service means less time on site and happier customers.
Customers report an increase in on-site lead generation of 60%.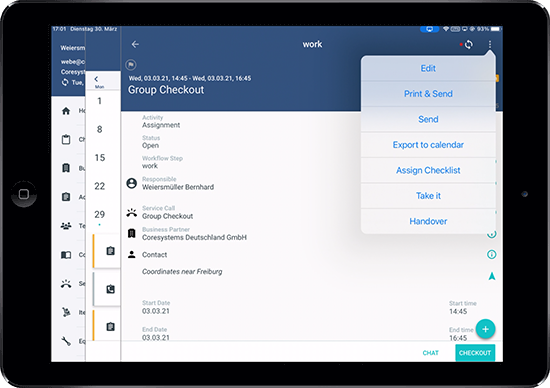 Let Mobile Field Service Apps Drive Your Service Operations
Coresystems had customer satisfaction in mind when designing initially the mobile field service app, which is owned now by SAP. By linking your field service technicians directly to essential business and customer information, you give them access to everything they need on the go. With a quick glance at their mobile phones, they can review: customer histories, part availability, process checklists, and more. Not only does this increase the first-time-fix rate, but it also increases speed, consistency, and efficiency. And this leads to happy customers!
+ Read More
- Read Less
SAP mobile field services app offers:
on-the-go availability of important customer data
an increased first-time-fix rate thanks to readily available critical field service information
access to uniform checklists which ensures consistent response and repair
real-time GPS tracking for customers to stay informed about arrival times
Cross-Selling and Up-Selling opportunities thanks to a seamless connections between field service technicians and sales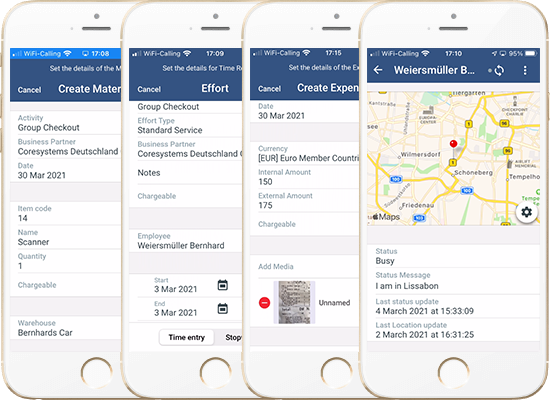 Boost Employee Satisfaction with a Technician-Designed Solution
Coresystems joined forces with experienced service technicians to develop the user interface and functionality of our app. Using Google Material Design, we focused on creating the best user experience. We built an application that empowers users on the field and in the back office by keeping them informed of vital processes. SAP continues this path with SAP FSM now. The seamless integration of your ERP helps everyone maximize their sector's potential. And that leads to reduced costs and increased productivity.
+ Read More
- Read Less
Managers and employees all stand to gain thanks to:
reduced costs and less mistakes due to streamlined operations and guided workflow

little-to-no learning curve for end-users

real-time information and updates for field service technicians and back office workers

data being shareable with the whole team

real-time performance metrics
Offer Your Customers the Best Service Performance Regardless of Connectivity
Don't let connectivity get in the way of a job well done. With the SAP field service app, you have access to all the essential data you need regardless of your wireless or mobile connection. This ensures that you can provide the same level of quality service in every corner of the globe. This is not only a relief for service technicians who rely on this data to complete a service visit.
+ Read More
- Read Less
Everything you need to complete your work:
look up customer, product, invoicing information

follow checklists to ensure standard procedures

complete data entry

capture signatures

create service reports

Use offline synchronisation and submit all relevant data to back office ERP and CRM once an Internet connection has been established
Establish A Culture of Safety in Field Service
Both environmental and health and safety oriented practices (EHS - environment - health - safety) need to be in place. SAP FSM gives you the tools you need to make life easier and safer for service technicians – also offline!
+ Read More
- Read Less
Give t

echnicians

constant

access to EHS relevant documentation like MSDS, lifting plans and company regulations

, online as well as

offline.
Improve awareness and identify risks on site

by

implement

ing

mitigation actions
Plan inspections and audits, provide training

,

and keep track

of

mitigations actions

Allow t

echnicians

to

generate feedback related

to

EHS (

t

ools,

q

uality,

d

ocumentation,

s

ite condition)
Capture incident data in order to generate EHS KPIs and facilitate case resolution
All-in-one Field Service Software for your entire team.
Make it a core moment.
We had three different databases not talking to one another; there was no integration. Engineers were using handheld written sheets. We realized we needed to have a better solution.