Connect the Field to Customers, Peers, and Colleagues within your Organization
Faster and more efficient service processes means 20% less time on site and happier customers.
Empower your field service technicians with SAP FSM mobile apps for iOS, Android, and Windows devices. Seamlessly integrate ERP, CRM, and accounting applications to provide your field technicians with all the necessary information they need on-the-go, online or offline, in real time. Improve efficiency and boost your business success and customer contact.

Optimize Your Field Service Operations on Mobile Devices
The Mobile Field Service Management App, initially designed by Coresystems, now owned by SAP, prioritizes customer satisfaction. By connecting field staff to crucial business and customer data, they have access to everything they need while on the go, including customer history, part availability, service data, and checklists for the service processes.
This results in higher first-time-fix rates, getting service jobs done faster and more consistently, and increased efficiency, leading to a better customer experience.
SAP Mobile Field Service App supports:
Access to important real-time data on various mobile devices
Improved first-time-fix rate with critical field service information readily available
Ensure consistent response and repair with uniform checklists
Keep customers informed about arrival times with real-time GPS tracking
Seamlessly connect field workers and sales for cross-selling and up-selling opportunities
Save time with better field service job management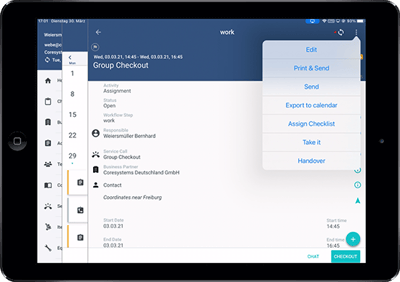 Improve Employee Satisfaction with Key Features Designed by Field Technicians
Coresystems collaborated with field technicians to design our app's interface and functionality using Google Material Design to create an excellent user experience. Our application keeps users informed of field service processes, empowering them on the field and in the back office.
Now owned by SAP, SAP FSM provides seamless integration with your ERP, maximizing sector potential, reducing costs, and increasing productivity.
Managers and employees advantage from:
Streamlined field service tasks and guided workflows result in reduced costs and fewer mistakes
End-users can learn to use the solution with ease
Field service technicians and back office workers receive real-time information and updates
Share data and trends with the whole team
Access real-time performance metrics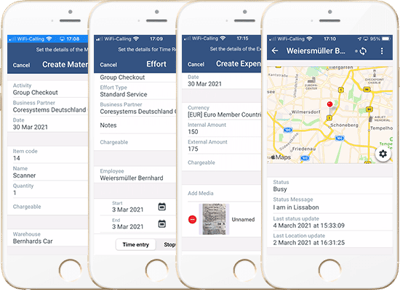 Provide Excellent Service Performance to Your Customers, Regardless of Connectivity
Ensure that connectivity doesn't hinder the quality of your field service. With the SAP field service mobile application, access essential data regardless of wireless or mobile internet connectivity, providing consistent field service worldwide.
This is not only a relief for service technicians who rely on this data to complete a service visit, but it also ensures uninterrupted service for your customers.
Everything you need to complete your work:
Access customer, product, and invoicing information
Follow checklists for standard job procedures
Complete data entry and capture signatures
Create and optimize service reports
Use offline synchronization and submit relevant data to back-office ERP and CRM once an internet connection is available
Promote a Culture of Safety in Field Service Management
Implement EHS (environment, health, safety) practices to ensure a safe work environment. With SAP FSM, provide field staff with tools for easier and safer work, even offline.
What you need to make life easier and safer for service technicians:
Support technicians with constant access to EHS documentation like MSDS, lifting plans, and company regulations both online and offline
Enhance risk awareness and identify hazards on-site through mitigation actions
Manage and plan inspections and audits, offer training and track mitigation actions
Enable technicians to give feedback on EHS-related matters such as tools, quality, documentation, and site conditions
Record incident data to generate EHS KPIs and facilitate case resolution