Minimize Repeat Visits and Maximize Profits by Ensuring Part Availability
Our customers in the service industry experience an average increase in service revenue of 19%.
Automated inventory management guarantees that field service technicians have the correct spare parts to execute service requests. Real-time inventory data provided by SAP Field Service Applications optimizes preventive maintenance, eliminates repeat visits, and enhances profitability for your service business. The work order software offers a comprehensive inventory overview for efficient truck stocking and repair depot management. Real-time tracking, monitoring, and forecasting enhance preventive maintenance while ensuring part availability and optimized field service operations. Coresystems offers seamless interfaces between all inventory management aspects, promising an efficient field service experience.

Accelerate Your End-to-End Work Order Lifecycle
SAP FSM's inventory overview enables a complete view of real-time spare parts tracking throughout the work order lifecycle. It provides insights into warehouse and service truck management for the back office staff and field service technicians, helping to reduce inefficiencies caused by missing parts and unorganized returns in field service scheduling.
This increases field operations profitability and customer satisfaction with timely repairs and first-time fixes, improving brand loyalty and customer satisfaction.
Improve Job Performance with Enhanced Inventory Visibility
Utilize SAP FSM's work order management software for seamless inventory management, including part requests and RMAs. Effortlessly integrate all necessary information with your ERP, enabling the field service team to easily locate parts and costs within their own trucks or nearby depots.
Improved inventory visibility means:
Easy asset management
Efficient inventory cost review and adjustment
Quick part location for field service technicians using filters
Optimized work order processes
More efficient service organization
Enhanced customer experience with no delays in replacement parts or repeat visits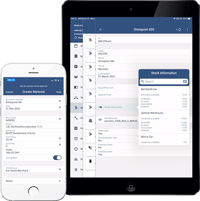 Integrate Inventory Management into Your ERP System
Integrating work order software and inventory management with your ERP system allows for extensive end-to-end inventory tracking.
By combining parts information with management and work order tools, you can track parts from the warehouse to the customer site, improving field service efficiency and customer satisfaction.

Ready for an efficient field service experience?
Let us take you on a mission to boost your field service business!