Our customers experience an average increase in service revenue of 19%.
The global field service market is predicted to account for $5 billion by 2022.
Best-in-Class report that the necessary parts are available in the technician's truck 84% of the time.
Accelerate Your End-to-End Work Order Lifecycle
With the user-friendly inventory overview of SAP FSM, it is easy for you to track parts at each stage of the work order lifecycle. The work order software gives you real-time insight into warehouse and service truck management. This makes it possible to reduce inefficiency caused by missing parts and unorganized returns, which in turn increases field service profitability. Customers also benefit from timely repairs and first-time-fixes, which boosts brand loyalty.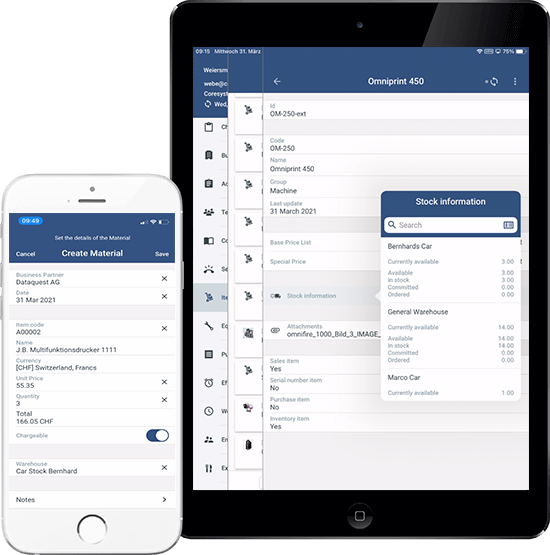 Improve Job Performance with Enhanced Inventory Visibility
Use the work order software of SAP FSM to manage all your inventory data. This includes part requests and return material authorizations (RMAs). Thanks to seamless integration with your ERP, you can easily integrate all essential information. This makes it possible for field service technicians to quickly locate parts and costs within their own trucks or nearby depots.
+ Read More
- Read Less
Improved inventory visibility means:
assets are easier to manage
inventory costs can be reviewed and adjusted across the board
field service technicians can use filters to easily locate a necessary part
customers are not forced to wait for replacement parts or repeat visits to complete a job
Integrate Inventory Management into Your ERP System
The easy integration of the work order software and inventory management into your ERP system promises the most extensive end-to-end tracking of inventory possible. By merging valuable parts information with our management and work order tools, you can follow your parts from the warehouse to truck stocking to arrival on site with the customer. This level of visibility across all stages of the inventory lifecycle minimizes disruptions to effective field service and maximizes transparency, efficiency, and customer satisfaction.
All-in-one Field Service Software for your entire team.
Make it a core moment.
The simplification of processes allows us to get machines up and running much more quickly than before – and our customers are delighted. Alignment with customers is now much faster and easier, as we no longer require so many administrative steps.