57% of all incoming calls require dispatching. Efficient scheduling and dispatching is a winning factor.
97% of consumers said customer service is important to their choice or loyalty to a brand.
Customers report of a success rate of 92% in meeting response times.
Right Engineer + Right Parts + Right Job = Best Results
With a simple drag-and-drop interface, SAP workforce management software makes scheduling and dispatching easy. No matter if your scheduling process is manual, interactive, or fully automated and AI-powered, the advanced scheduling capabilities make dispatching easier to manage and increase first-time fix rate.
Coresystems' workforce management platform helps planners by providing a visual indication of where a certain work order should be placed. This ensures that you don't miss your customers' SLAs.
Visual feedback on the planning board lets you see jobs that are running overtime, which might potentially impact other scheduled activities.
+ Read More
- Read Less
Advanced workforce scheduling by SAP makes it easy to:
access customer history data
track essential assets
prioritize important service calls

manage complex shift schedules

relay real-time job status information to the back office

easy to make adjustments using a drag-and-drop interface

visibility of travel time

matching of job requirements with technician's skillset

find the technician that best suits a certain job by taking into account, skillsets, availability, coverage

a fully customizable planning list lets you view the information that is important for you (work order status, address, equipment, SLA and custom fields)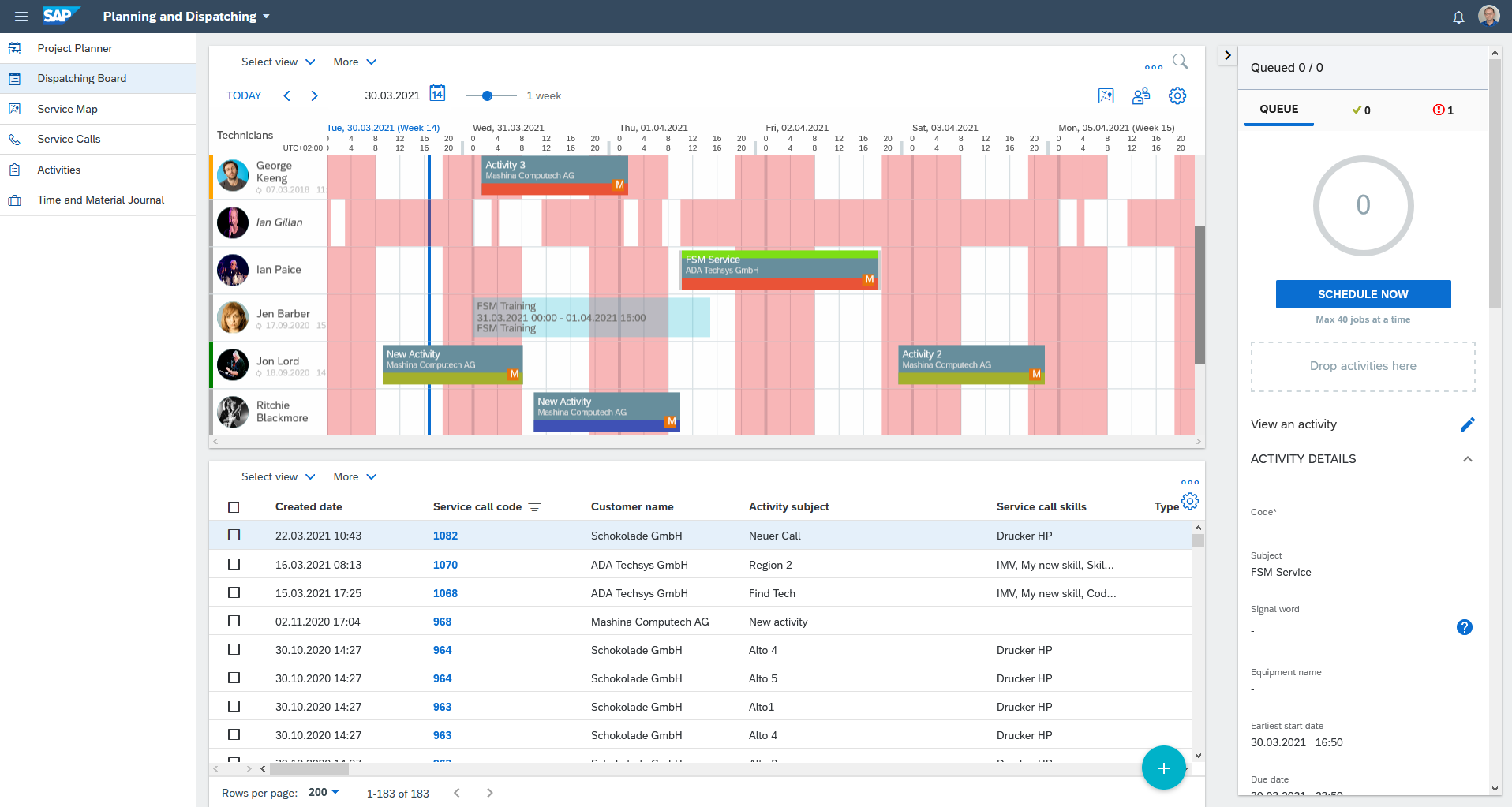 Take the Stress Out of Scheduling with Total Visibility
The drag-and-drop dispatch console offers increased visibility and transparency. This makes it easier and more efficient to assign tasks and schedule field service technicians. Not only is scheduling simplified, but the caliber of service and the customer experience improve measurably. The overall increase in efficiency and output also leads to a higher profit margin.
+ Read More
- Read Less
The drag-and-drop scheduling, dispatching and planning feature lets you:
simultaneously schedules multiple work orders
incorporate a map complete with job locations and current job status
review all the information you need in real-time
avoid unnecessary additional costs due to unexpected circumstances
synchronize data so you can easily allocate your planned assignments with available field service technicians
receive regular status updates while field service maintenance work is ongoing
get an instant overview of your field technicians on a map
Skill Management For Advanced Workforce Scheduling
The Workforce Scheduling Tool makes sure that the nearest and best-qualified service technician is sent to each field service visit. Your field service technicians will appreciate the decrease in travel time and frustration with unfamiliar repair issues. Your customers will appreciate the quick responses and first-time-fix rate!
+ Read More
- Read Less
With advanced scheduling and dispatching you can:
take into account skills and expertise specific to certain technicians when assigning jobs
dispatch the best technician for user-defined service calls
set factors like service region, technician location, best routes and skill set
advanced filters let you narrow down and view only what is really important to you
Increase Your Return on Investment by +15% with Artificial Intelligence
Thanks to artificial intelligence (AI), auto-scheduling has become more intelligent. Using advanced algorithms, field service providers are able to optimize scheduling, planning and dispatching in real-time. The result is smoother and swifter operations and the best possible utilization of all your available resources. The increase in efficiency and productivity translates directly into a sizable return on your investments.
+ Read More
- Read Less
Intelligent auto-scheduling lets you:
simultaneously optimize multiple jobs thanks to intelligent algorithms
send automated notifications to technicians, which include necessary tools and parts, on their mobile devices
increase the speed and efficiency of your field services
meet your key delivery metrics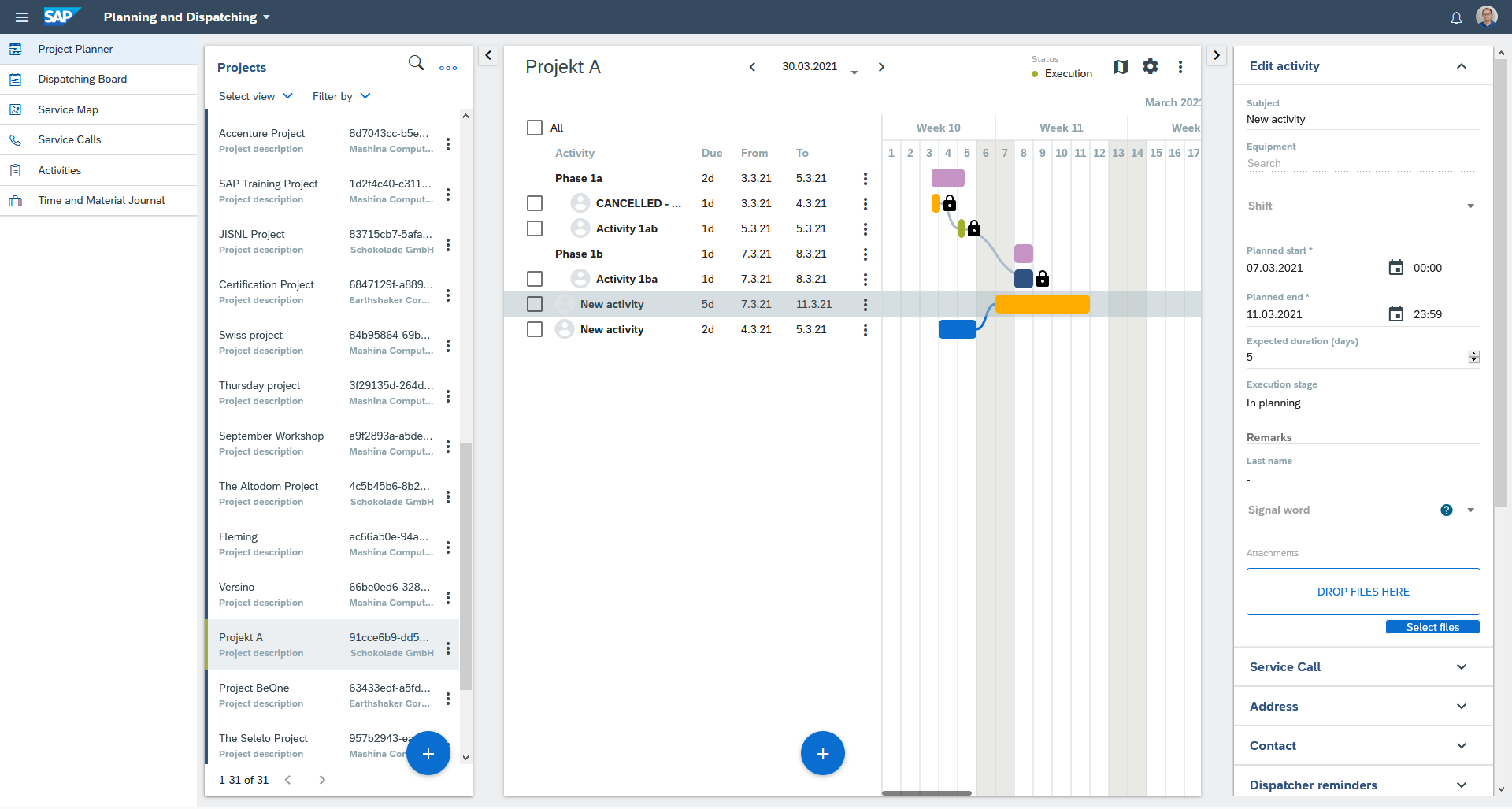 Use Gantt Charts to Plan and Manage Complex Services and Installations
Long-cycle field service projects have an added level of complexity. They necessitate the availability of specific resources and expertise over an extended period of time. With Gantt charts it is easy to manage more complicated long-term service and installation projects. This means that technicians can get started immediately rather than waste time coordinating logistics. Project planning and workforce management has never been easier.
+ Read More
- Read Less
Gantt charts make it easy to:
drag and drop tasks into a comprehensive chart
manage long cycle service projects and installations
organize large teams for multiple days on site
All-in-one Field Service Software for your entire team.
Make it a core moment.
In the peak season, we handle more than 20 assignments per day. Due to incidents that cannot be planned, such as technical malfunctions or «surprises», the schedule changes very often and very quickly. The use of field service allows us to be flexible without having to make countless phone calls to the service technician.