Ensure Timely and Efficient Allocation
of Personnel and Resources
Dispatching is required in 57% of incoming calls. Efficient field service scheduling and dispatching are critical for success.
Scheduling field service operations can be tricky due to unexpected problems like truck breakdowns or employee sickness. Real-time automated scheduling helps you efficiently allocate your resources to save time and money while maintaining excellent customer service. By managing work orders effectively, you can keep your customers happy and reduce costs.

Maximize Results with the Right Engineer, Parts, and Job
Simplify scheduling and dispatching with SAP Workforce Management software's drag-and-drop interface and advanced capabilities.
The platform enhances planning by visually indicating work order placement and highlighting potential impacts on SLAs and scheduled activities.
Key features of advanced Workforce Scheduling by SAP:
Access historic customer data
Track essential assets
Prioritize service calls
Achieve shorter response times
Manage complex shift schedules
Send real-time data to office staff in the back office
Adjustments made easy through drag-and-drop
Visibility of travel time
Match job requirements with technician skills, availability, and coverage to find the right technician for the right job
Customize your planning list to display essential information, such as work order status, address, equipment, SLA, customer data and custom fields
Scheduling Efficiency with Total Visibility
The drag-and-drop dispatch console boosts visibility and streamlines task assignment and technician scheduling.
Not only is scheduling simplified, but the caliber of service and the customer satisfaction improve measurably. The overall increase in efficiency and output also leads to a higher profit margin.
The drag-and-drop scheduling, dispatching and planning feature lets you:
Schedule multiple work orders simultaneously
Map job locations and track current status
Real-time access to all necessary information
Avoid unforeseen costs
Easily allocate planned assignments to available technicians
Receive regular updates during maintenance work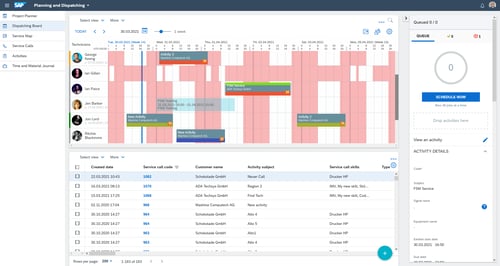 Skill Management For Advanced Workforce Scheduling
The Workforce Scheduling Tool assigns the most suitable field service technician to each field service visit, reducing travel time and frustration for your mobile workforce and providing quick responses and high first-time-fix rates for your customer base.
With advanced scheduling and dispatching you can:
Assign jobs based on technicians' specific skills and expertise
Dispatch the ideal technician for user-defined service calls
Consider service region, technician location, best route planning, and skill set
Improve communication between all staff members
Boost Your Return on Investment by +15% with AI
Thanks to Artificial Intelligence (AI), auto-scheduling has become more intelligent. Using advanced algorithms, field service providers can optimize scheduling, planning, and dispatching in real-time.

This boosts efficiency, productivity, and resource utilization, leading to a significant ROI increase by reducing costs.
Intelligent auto-scheduling lets you:
Simultaneously optimize multiple jobs thanks to intelligent algorithms
Send automated notifications to field service teams, which include necessary tools and parts, on their mobile devices
Increase the speed and efficiency of your field service business
Meet your key delivery metrics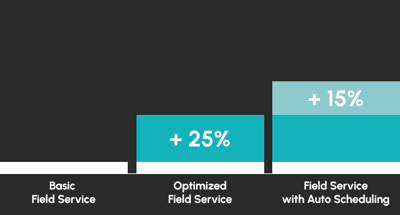 Plan and Manage Complex Services and Installations with Gantt Charts
Gantt charts simplify the management of long-cycle field service projects that require specific resources and expertise over an extended period.
This streamlines project planning, job scheduling and workforce management, enabling technicians to start work immediately without logistical delays.
Gantt charts make it easy to:
Drag and drop tasks into a chart
Manage long-cycle service projects and installations
Organize large field service teams for multi-day on-site work orders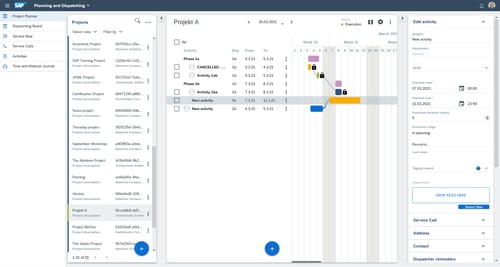 Ready to schedule and dispatch technicians?
Let us help you boost your field service management!